Unit 1, The Sidings, Melmerby Junction, Ripon, North Yorkshire, HG4 5EX
Welcome to Roger Clarke Motor Engineers. We are a small family run business based in the heart of a village just outside Ripon, amongst the countryside with strong links to the local community.
So, it all began in 1933 when Roger's father, Ralph became a mechanic and went on to start his own business. Following in his father's footsteps in 1995 we opened a garage on Melmerby Industrial Estate, moving to the new site where we are now in 2005! We are now on our third generation of motor mechanics, with Jamie our son joining us in 2009. We have been established for over 23 years now and we are very proud to have a great team!
For over twenty years my car and van have been so well looked after by Roger Clarke and his team that I think we are very fortunate in our little slice of North Yorkshire to have such an excellent and competitively priced garage service.Adrian Gobbi
MOT Testing
It is our job to make sure your car is safe and legal on the road. Our specially trained MOT Testers follow the government compulsory annual test for safety and exhaust emissions of motor vehicles of more than a specified age.
The Test covers
Body, vehicle structure and general items
Fuel system and Exhaust Emissions
Seatbelts, Seats, Doors and Mirrors
Brake Efficiency, Tyres and Wheels
Lights, Wipers, Washers and Windscreen
Steering and suspension
Engine Management System
Types of vehicle
Cars
Vans
Campervans/Motorhomes
Horseboxes
Large vehicles up to 5 tonne
Class 7 MOTs
If your MOT is a pass then we will issue you with an MOT Certificate and you can be on your way. If you'd like to, we can send you an MOT reminder in the post for the following year. Just ask at reception and we'll take a few details from you.
If your vehicle fails, then we will talk you through the failures then advise what the next step is, we will never do any work on your vehicle that is not authorised by you.
Handy Tips:
You can find out when your MOT and Tax runs out on the gov.co.uk website.
You can also sign up to text reminders to your phone.
I have always taken my vehicles to Roger Clarke's as they are always helpful and honest. They will go above and beyond to fix any issues.Ashley Holyer
Diagnostics
If you have a fault with your car and a light keeps popping up on your dashboard then we can carry out a diagnostic check on your vehicle.
Despite what many people often belief vehicle diagnostics aren't as simple as plugging a scanner into the car to expose the fault defect.
A heap of knowledge, a sprinkle of tools, and a large dose of training is required to effectively diagnose where the failure has occurred. Once we have found the fault with the vehicle we can then recommend the next steps to resolving the issue.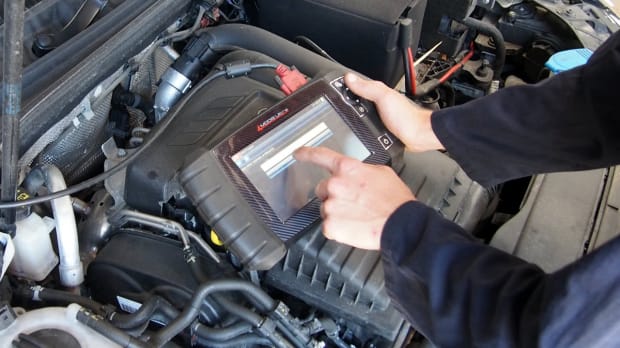 Roger Clarke and his team are always helpful, cheerful and willing to help and sometimes have to fit us in last minute. Great value and great turnaround for us as a company - they will always go out of their way for you.Ken Rodney Construction Ltd
Servicing
We do all sorts of servicing here at Roger Clarkes, we can tailor a service to suit your needs. However, most customers choose to have either a Full Service or an Interim Service. Did you know that a service can sometimes take 3 to 4 hours, we highly advise that you book in advance and leave your car with us for the majority of the day.
Full Service:
We will check round your lights, tyres and fully strip and inspect the brakes to see if there are any issues. We'll also change your oil with recommended grade oil and fit a new oil filter. Then we top up all the levels including anti-freeze, screen wash, power steering fluid, brake fluid and check tyre pressures. Then we'll check belts and auxiliary belts all round. Finally, we'll check over your cabin filter and fuel filter and give your vehicle a once-over to check that everything is just right.
Interim Service:
In an interim service we will check round your lights, tyres and visually inspect the brakes. Then we'll change your oil with recommended grade oil and filter. Top up all the levels including, anti-freeze, screen wash, power steering fluid, brake fluid and check tyre pressures. Check your belts and auxiliary belts. Finally, we'll give your vehicle a once-over.
Car still under warranty?
Yes, we can still service your new car as long as we use genuine parts, which of course we will always do, so that the warranty with your manufacturer will not be compromised.
Roger Clarke's always go above and beyond, for over a decade I have used him for classic cars, modern cars and commercial vehicles. I have recommended him to family and friends with confidence and many of them have now become regular customers themselves. Highly recommended.Adrian Simpson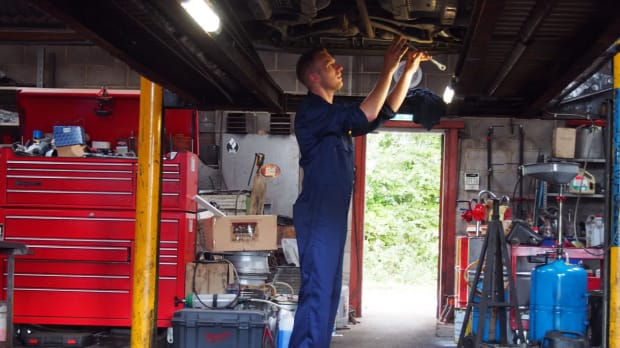 Repairs
We're a great believer in supporting local businesses so we always source our car parts from local motor factors across North Yorkshire wherever we can. Our team will carry out work to suit your needs and fit around your requirements.
We can also recommend any other maintenance or repairs that may be needed on your vehicle. However, if you just need a bulb then just drop in and we'll fix it. Give us a call today for a quote or make a booking to avoid disappointment, we're busy bees!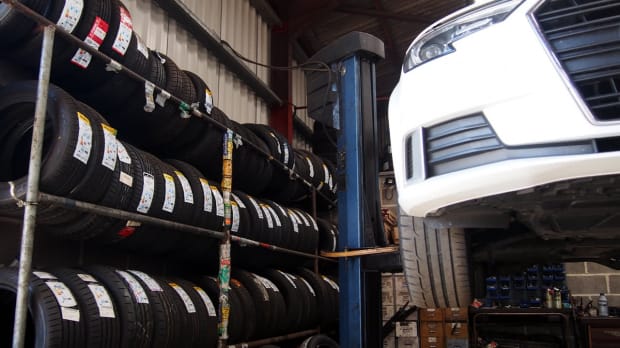 Tyres, Exhausts
& Batteries
We supply all batteries, tyres and exhausts at a competitive price. We carry a large selection of tyres ranging from budget to premium, whichever suits your preferences.
Need your tyre pressures checking? Call in and we'll do this for you free of charge and check your tyres whilst we're at it. Just give us a phone call, or pop in and we can give you a quote.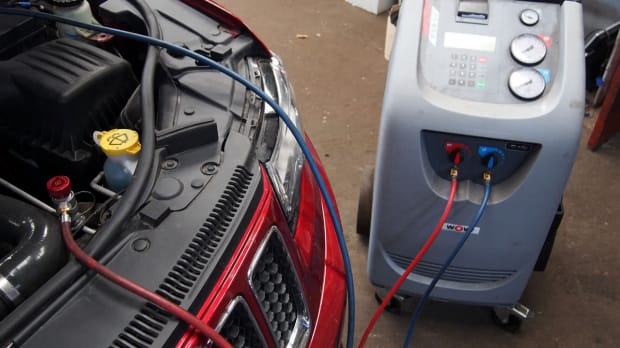 Air Conditioning
Feeling a little hot?
We can service and re-gas your air conditioning system to keep you cool in the hot summer months. This process normally takes around an hour, give us a call and book a time-slot to have you're A/C re-gassed leaving you cool and comfortable.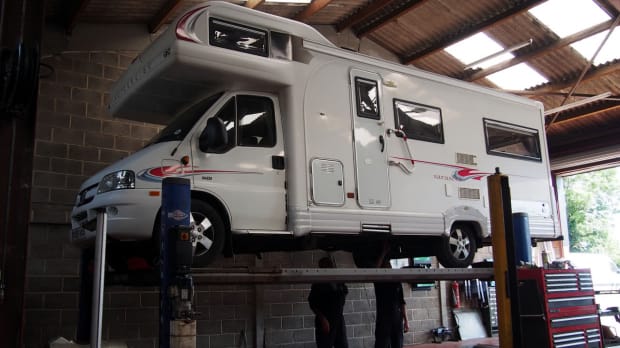 Campervans, Horseboxes
& Large Vehicles
We are well known in the area for carrying out services, MOTs and other vehicle maintenance and repairs on large vehicles. We have a large ramp in our workshop perfect for vehicles up to 5 tonnes and Class 7 MOTs.
Please note: Class 7 are goods vehicles up to 3,500kg. Class 4 are ordinary cars including motorhomes up to 5 tonnes kerbside weight.
I have always had a really great experience when leaving my car at Roger Clarkes. They're quick, friendly and very easy to communicate with. I would recommend Roger Clarke to anyone. They have some gorgeous dogs in reception too!Rebecca Goodall
Unit 1, The Sidings, Melmerby Junction, Ripon, North Yorkshire, HG4 5EX